Do you have a group of adventurers looking for a secluded spot to enjoy the Park? The newly revamped Labyrinth is the spot!
The Labyrinth is a separate structure for ages 7 and up. The Lab is only available to privately rent out for groups and parties. You'll also get a picnic table area close by as a part of the package!
This two tier structure has elements like bridges, bigfoot, and zip drops – exclusive to the Lab!
Labyrinth tickets will get you 90 minutes of climbing + 30 minutes for the safety briefing and gear up.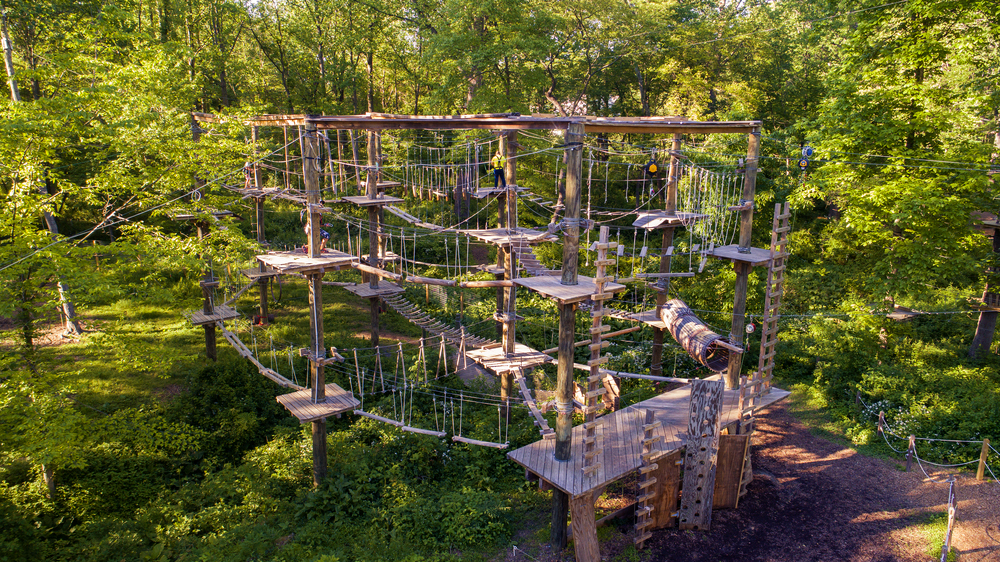 The Labyrinth is available to rent out for birthday parties or groups! Any age group 7 & up is welcome to opt for the Lab!
The Lab is contained in one area, so it's easy to snap some pictures from the ground. 
To secure a private party, be sure to reserve at least 2 weeks in advance! 
Please Note: If your outing is for a younger crowd, we require chaperone climbers. While there will be staff to help out as needed, the Labyrinth is still a self-guided experience.
Great for groups or parties, you'll get the entire Labyrinth to yourself along with picnic space conveniently located adjacent to the Lab.
*Price does not include tax. 
Want an even more memorable party? Opt for the Glow in the Lab experience!
We'll have the entire Labyrinth decked out in colorful neon lights and the stereo out for an exhilarating experience! Jam out to some music while everyone climbs under the twinkling lights! Bring your own playlist or choose from one of the Park's mixes.
This "add-on" is totally free – just book the 7 PM slot for this exciting experience!
Don't Take Our Word for It! MaryLynn G
5 Star Review
We had the best birthday party for my 7 year old son climbing the Labyrinth. His friends and their parents had a blast. The staff were awesome and their rescheduling policy was very generous. We are looking forward to our next adventure there. CessyD
5 Star Review
I was very impressed with the staff that worked my daughter's 10th birthday party at Sandy Spring Adventure Park. The climbers working the party, (especially Jack) were fun and patient and tireless as many of our 20 guests cried "STAFF" every time they got stuck somewhere in the Labyrinth. And the water bottle was a really nice touch for the birthday girl unlike some of the party favors typically given at other venues. zcounseling
5 Star Review
My new activity addiction! Took my godson (age 7) on the Labyrinth and we both had the best time. Staff was absolutely wonderful with him, making sure he knew how to work the clips and encouraging him in positive ways.
SAVE SOME TIME, PLAN YOUR CLIMB